What are the ethical challenges to be considered in the development of carbon dioxide removal (CDR)? What can decision-makers do? During a half-day workshop on ethical issues surrounding CDR in Switzerland on the 9th of June 2022, the Swiss Carbon Removal Platform addressed these questions with around 20 participants from research, civil society, business and administration – and received at least as many different answers. Together, we set out to find recommendations for integrating ethical considerations into the implementation of CDR in Switzerland.
Ethics is a method for critically reflecting on our everyday moral norms and values. Accordingly, it does not provide answers directly, but offers clues for integrating ethical aspects into the decision-making process. The normative principles and values on which such ethical evaluations should be based is a specialist discussion in itself, into which Prof. Ivo Wallimann-Helmer gave the workshop participants a brief insight.
In practice, decision-makers are often under time pressure and are forced to make decisions despite uncertainties. Also, many other aspects such as financial resources, legal conditions and political feasibility have to be taken into account. How can ethical considerations be integrated into the decision-making of research, regulations and investings of CDR? In order to get closer to answers to this question, it is helpful to sort out the multiple ethical challenges associated with the use of CDR methods.
Three categories for ethical considerations
In the context of her doctoral thesis, Hanna Schübel identifies three topics that allow such a categorisation of ethical considerations that are currently being discussed in the context of CDR:
moral pressure,
moral hazard, and
justice implications of implementation.
At the workshop, ethical topics related to CDR were brainstormed and then assigned to these fields (Fig. 1). In the following, the topics are briefly outlined and illustrated with examples of individual aspects that were discussed at the workshop.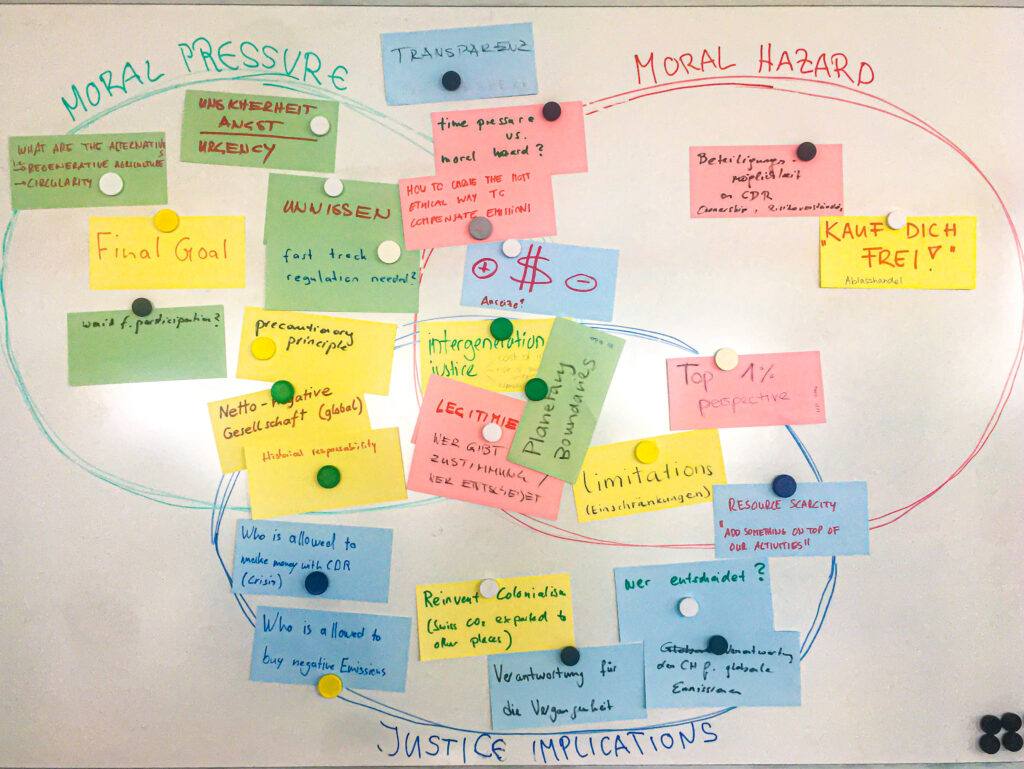 Moral pressure
The pressure to act in climate policy is constantly increasing due to the progressing climate change and its consequences – as well as the lack of results of existing climate protection measures. The understanding that the removal of greenhouse gases from the atmosphere is essential to achieve "net zero" of man-made greenhouse gas emissions leads to an expansion of this pressure to implement CDR. Given the negative impacts of climate change, 'no action' is not a morally neutral alternative. However, the discourse on the use of CDR methods to mitigate man-made climate change is morally charged. The various CDR methods are accompanied by many uncertainties regarding feasibility, as well as sustainability and negative side effects of large-scale deployment [2].
The extent to which these are accepted in order to use CDR is – in addition to technical, economic and political feasibility – an ethical question.
Moral Hazard
The role attributed to CDR in most net-zero strategies, given the high costs and existing uncertainties, is to offset residual emissions.
However, this is where the moral hazard comes into play: the risk that the promise of future large-scale deployment of NET will make emissions reductions less of a priority. The moral hazard can manifest itself, for example, in deliberate delaying tactics by emitters who prefer to write the extensive use of CDR into their climate strategies instead of working seriously on reducing their emissions (a form of "greenwashing"). Given the still large uncertainties of CDR, this carries the risk of a failure of climate protection in case NET cannot deliver on this promise. The "moral hazard" crystallises in the question of which emissions are considered 'hardly avoidable' residual emissions. The promise of being able to neutralise one's own emissions by buying negative emissions was compared to the sale of indulgences by participants in the workshop.
Justice implications
In the establishment and expansion of CDR and its regulation, questions of justice also arise. These can be divided into questions of distributive justice and procedural justice. The large-scale use of CDR methods is accompanied by a high demand for energy, land or biomass and could intensify resource conflicts in the medium term, with consequences for livelihoods and biodiversity. This is a classic issue of distributive justice.
An unequal distribution, which is approved by those affected and is based on fair decision-making processes, can certainly be considered ethically legitimate. "What decisions are taken and by whom?" is a question of procedural justice, where power, participation, democratic involvement and transparency are important keywords. It was also mentioned here that the Swiss perspective can hardly adequately cover the opinion of all people worldwide who are directly or increasingly affected by climate change and CDR without integrating them into the process. In this regard, it was pointed out at the workshop that Switzerland, and also the participants in the workshop, speak about the issues of CDR and climate change from a very privileged perspective.
How great the urgency and consequently the moral pressure to act actually is for individual countries and companies is also measured by the magnitude of the CO2 emissions that need to be reduced and offset. To do this, it must first be clarified for which CO2 emissions Switzerland is responsible. Do we include the emissions caused abroad by the import of consumer goods and flight emissions? What about historical emissions? Who determines these responsibilities? These are also examples of equity issues regarding "net zero" and the use of CDR.
Blurred dividing lines
Hanna Schübel's model helps to classify ethical challenges and to obtain an overview. It is not a matter of sharp categories, because many ethical challenges arise at the interfaces between moral pressure, moral hazard and justice implications. One example are issues of intergenerational justice, which fall into all three categories: Intergenerational justice increases the pressure on climate policies and measures. At the same time, there is the moral hazard of shifting the problem into the future by gambling on uncertain future NET potentials. Finally, demands for intergenerational justice raise questions for the distribution of risks and negative impacts, which can also be discussed with regard to the precautionary principle [3].
Similarly, the question of resource use by CDR can, in addition to its equity aspects, also become relevant with regard to moral hazard, namely when it comes to whether scarce resources such as energy or biomass are used for CDR or rather for other mitigation measures, such as electrification or biofuels. It should be considered that such other climate protection measures are also accompanied by side effects and moral implications.
The division of ethical considerations into the three categories thus serves more as a thinking aid than for the creation of clear dividing lines between the aspects – as does the distinction between CDR and other climate protection technologies.
Is CDR now an indispensable means for achieving a non-profit goal (climate protection), whereby uncertainties have to be accepted? This question ultimately concerns all three categories discussed here and should not be discussed with a narrow focus on only one (e.g. moral pressure).
The question of the final goal, a long-term vision for society as a whole, is worthwhile. Despite the moral pressure, decision-makers should reflect on their actions and embed them in the considerations of society as a whole – and thus work towards a fact-based and fair role for CDR in the mitigation of climate change.
Where does Swiss climate policy stand on ethical issues?
To what extent can ethical challenges of CDR be observed in the Swiss context? On this question, Juanita von Rothkirch, PhD student at the TdLab of ETH Zurich, provided participants with insights into her current research work. The conviction that emission reduction measures should take precedence over CDR is widely shared by Swiss stakeholders. The Federal Council has consequently recognised that it is necessary to separate the targets for emission reductions and CDR. The Federal Council plans the use of CDR methods to be limited to residual emissions from the agriculture, waste management and industry sectors. In connection with the debate on the Glacier Initiative, the government is expected to examine the legal basis for separate long-term climate targets (reduction and negative emission targets). These efforts to strictly separate negative emissions from emission reductions are steps to avoid dilution of reduction efforts. At the same time, CO2 sinks are currently also financed from levies on mineral oil imports – is this a "moral hazard" or polluter-paid start-up financing for the implementation and scale-up of CDR?
Transboundary CO2
Another issue related to distributive justice is where CDR should be implemented: While the government has emphasised that domestic opportunities for CO2 storage should be exhausted, the potential and feasibility are still subject to many uncertainties. The government has stated that about two-thirds of emissions will likely have to be stored abroad. If the burdens of CDR projects cannot be carried by those who earn the benefits, procedural justice becomes more important to ensure that local stakeholders have sufficient opportunities to participate in the decision-making and monitoring processes.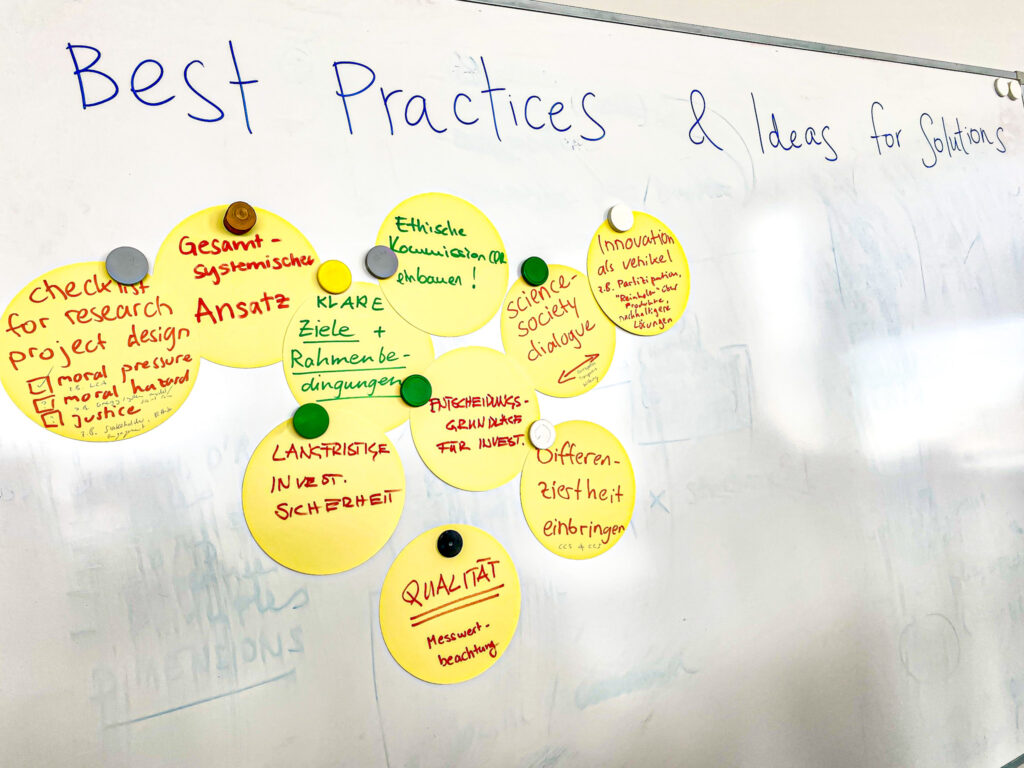 Lively discussion from different perspectives
In our discussions of the ethical challenges of CDR, dealing with the uncertain risks was central. From the perspective of economic actors, the interplay between the pressure at national and international level to become active and the uncertainty regarding the state of technology and investment security dominates. From an economic point of view, it is therefore important to ensure security for investments when implementing CDR in Switzerland despite the uncertainties – or precisely because of them. In addition, standards and certificates are necessary so that a certain level of quality can be assured despite great uncertainties. The focus here is on moral pressure as a driver.
The authorities' view confirms: clear framework conditions are important. In addition, it was added that it is necessary to broadly support the responsibilities for ethical issues. Here, the possible role of ethics committees was discussed.
"There is no such thing as a pure CO2 problem", emphasised civil society voices at the workshop, Climate protection discourses should always take a macro-systemic view. In order to mitigate the effects of the uncertainties regarding the risks, the dialogue between research and society is central from the point of view of research. In doing so, society as a whole would be sensitized to the moral necessity of CDR.
The discussion also revealed a general problem: ethical considerations often have no place in everyday politics and industrial life. Therefore, it is fundamental to take moral considerations into account already in research. For example, ethical considerations could already be integrated into projects when formulating research questions, instead of relying exclusively on specific ethics projects. The three thematic areas discussed here can be used to make visible which ethical challenges are taken into account in a project and which are not: for example, life cycle assessments to clarify sustainability issues, systemic considerations to reduce moral hazard or stakeholder engagements for more procedural justice.
Successful start to the etical debate
For a sustainable, fair and socially acceptable expansion of CDR in Switzerland, the available knowledge is central. Accordingly, accessible information and clear framework conditions for interested and affected parties are needed. Where these guidelines are still lacking, the available information should enable and facilitate the integration of ethical considerations into decision-making processes.
"Such workshops usually end with a rather unsatisfactory feeling, but that is okay," Samuel Eberenz concludes the event. Dealing with complex issues usually raises more questions than it seems to answer. Since ethics rather discusses processes and contexts than individual facts, this conclusion definitely underlines the success of the workshop – as a starting point for the engagement and discussion on ethical challenges of CDR.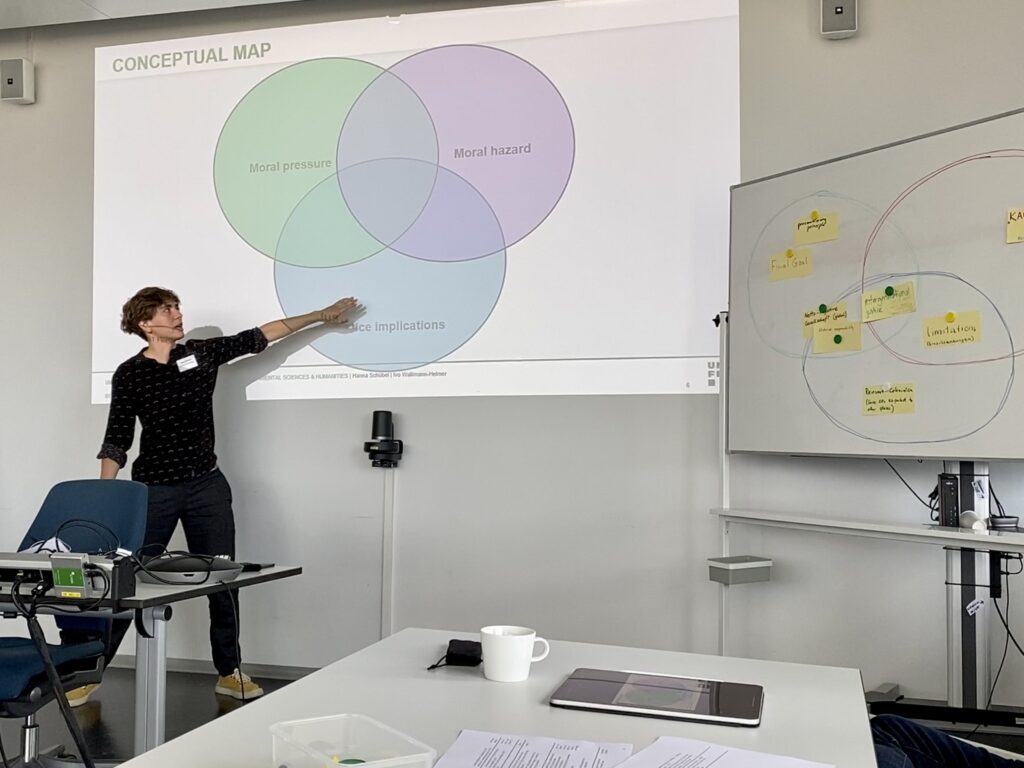 The workshop on ethical challenges of CDR by the Swiss Carbon Removal Platform took place on the 9th of June 2022 with around 20 participants from research, civil society, business and administration – with the support of the City of Zurich.
The workshop was prepared, conducted and accompanied by: Hanna Schübel & Prof. Dr. Ivo Wallimann-Helmer (UniFR_ESH Institute, University of Fribourg), Juanita von Rothkirch (TdLab, ETH Zurich) and Dr. Samuel Eberenz, Matthias Holenstein and Carmela Cavegn (Stiftung Risiko-Dialog).
---
[1] Schübel, Hanna 'A Conceptual Map for Discussing CDR' (in progress).
[2] IPCC (2018): Global Warming of 1.5°C: Summary for Policy Makers. In IPCC Special Report on the impacts of global warming of 1.5°C above pre-industrial levels and related global greenhouse gas emission pathways, in the context of strengthening the global response to the threat of climate change, sustainable development, and efforts to eradicate poverty. Edited by Masson-Delmotte, V., P. Zhai, H.-O. Pörtner, D. Roberts, J. Skea, P.R. Shukla, A. Pirani, W. Moufouma-Okia, C. Péan, R. Pidcock, S. Connors, J.B.R. Matthews, Y. Chen, X. Zhou, M.I. Gomis, E. Lonnoy, T. Maycock, M. Tignor, and T. Waterfield. World Meteorological Organization. Geneva, Switzerland.